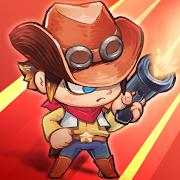 Unduh Zombie Survivor: Invasion Mod Apk v1.31 (Uang yang tidak terbatas)
402 130.57 MB 4
100% Bekerja
Versi APK

1.31

OS Android

4.4 and up

Pengembang

Funmaker Global Games
Kategori

Ukuran APK

130.57 MB

Unduh di Google Play
1. 1 Pukul KO
2. Mode Tuhan
3. Tembakan Cepat
4. Pengganda Exp
5. Pengganda Kecepatan
6. Rentang Pengumpulan Tinggi
7. Sumber Daya Tidak Terbatas (Emas, permata, energi, dll.)
The legendary of survivor is here. Could it be YOU?

The zombies are coming from everywhere with infinite obstacles. But you will have continuously upgrading skills and weapons to defeat them all, even the biggest boss.

HOW TO PLAY:
▪️ Use ONE TOUCH to move, "pick up" and upgrade arsenal of weapons
▪️ EQUIP the most powerful guns, spears, bombs, boomerangs or endless powers...
▪️ DEFEND yourself with tons kind of shields to survive against enormous invaders
▪️ Try to STAY ALIVE as long as you can

**Every choice under your hand makes a different victory.**

FEATURES:
▪️ Clear the battlefield with one-hand controls
▪️ Variety of enemies and bosses
▪️ Diversity of weapons and skills
▪️ Different maps with different battlefields
▪️ Challenge yourself in both Arena and Battle mode to increase EXP

This battle is yours. Are you ready to discover the strengths hidden inside and be the ultimate hero of the world?